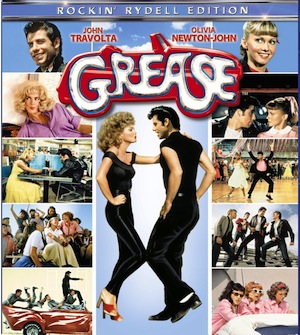 As we get closer to the beginning of school, or move in countdown some of us are doing (19 days for me by the way), I continue to pick classic back to school movies. This one is definitely one of my all time favorites, a movie I've watched since I was little, and even performed in my freshman year of High School: Grease. The original High School Musical or our time this Romeo and Juliet-esque theme is just what you need to cheer yourself up. This musical has got amazing actors, great dance scenes and awesome costumes. The story line is pretty interesting as well. But let's get right down to the point that bothers me about this movie.
As I said this is one of my favorites. But even favorites have downfalls. This movie's downfall? The message. The only thing I can hold against this movie is what it sends us. Throughout the movie Danny tries to change himself to win back over Sandy. But when that doesn't work what does she do at the very end? A complete 180 as she becomes that hot, sexy Sandy we all know and love, and want to dress up as for Halloween. The worst thing is that this movie is for all ages. Even as a child this movie is great, you may not get all the raunchy references but you'll love the music and dancing. But this message is horrible. If the person doesn't like who you really are, then change it. I will never admit to Disney' A High School Musical as being anything close to what this movie is, but they did send a good message at the end of their show. Neither Troy nor Gabriella changed, their friends just accepted them for who they were.
Fortunately most of that is overshadowed by everything else in the movie. So lets focus on all of the things I love about the movie starting with the characters. Every single one of these characters are so amazing. The actors and the actual character themselves. My personal favorites are Marty, Rizzo and Kenickie. To be honest I'm not the biggest fan of Sandy. She's too perfect for me. Rizzo and Kenickie are awesome. Jeff Conaway does a phenomenal job in this movie playing Kenickie. He perfectly portrays a dreamy, badass kinda guy that any girl would find attractive. Rizzo made a good choice when she ditched Danny for him. Marty is another one of my favorite characters. Although I'm really upset that her song from the musical "Freddy My Love" was not included in the movie I still love her character. If I was to be a character I would be her. She's got spunk and attitude and can definitely get the guys. An interesting fact, if you watch the scene where she dances near Vince Fontaine next to the camera you slowly see her dress slide further down and then an awkward jump cut. Her dress actually fell down during the filming and they had to cut it out. Regardless, she gets to wear some of the best outfits in the movie.
The other character I love is Rizzo. Although Rizzo is the supposed to be the "mean" one in the Pink Ladies you see through her song that she's really not as bad as people expect her to be. She's just misunderstood. But she is playful and flirtatious and knows how to have fun. Not to mention she gets to sing some of the best songs: "Look at Me I'm Sandaree" and "There Are Worse Thing I Could Do". Both of these are fun to sing and of course the latter one is a very well known power ballad that gives you a more in depth look in her character. This is one of the most coveted roles when it comes to performing this show because it's a very versatile character.
Of course this review would not be complete without reference to my favorite scene. Although all the dance scenes are so awesome and make me wish that people still danced like that I always go back to that scene in Frenchie's bedroom. One thing that my sister and I always found hilarious was when Jan sings along to that toothpaste/toothbrush commercial. I don't know why we found it so hilarious the first time but whenever that part comes on we always double over laughing. Maybe it's the motions, or the words or the voice she uses to imitate the little beaver dentist in the commercial but my sister cannot laughing after that part. And the part when Marty throws the tiger stuffed animal at her and she makes that noise it just makes her crack up even more.
I think one of the best things in this movie is that it really is great for all ages. As I said before kids love the music and dancing and adults actually understand the jokes. It's perfect for movie night when you wanna watch something light hearted. I can't tell you how many times I've watched it, but it will always remain as one of my favorites. And maybe sometime I'll get to perform in it again.