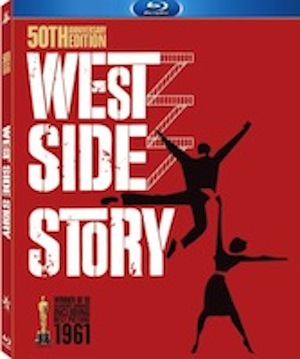 I've always been very fond of Shakespeare. In high school I got a chance to read many of his plays, the comedies, tragedies and the histories pretty equally. One of the first Shakespeare plays I read in high school was the very famous Romeo and Juliet. I had never read it before but knew the entire story line. Not just because it's a famous story. But because of another movie I had seen. A few years before I woke up on Christmas morning, checked my stocking and discovered my present: West Side Story. It also came complete with the screenplay as well so I could follow along and read the script. That was probably one of the first screenplays I'd ever seen. I was enthralled by the way it was written. How the scenery and shots were described and every emotion was written into the story. It was pretty cool.
And being a dancer this movie has definitely become one of my favorites. I remember the first time I watched it I was amazed that so many guys could dance that well. I had never met many that could. The dancing was so cool, I feel like I may have tried to push this as a possible musical choice a few times to my chorus teacher because it was such a great story. Regardless of the fact that we didn't do it, it remains as one of my favorite musicals turned movies.
The first thing I love about this movie is the cast. Now I am a huge fan of Natalie Wood, who played Maria. The day I found out that it wasn't her voice that was singing though made me very sad. Regardless, Natalie Wood was the perfect Maria. Freshman year of high school I actually sang I Feel Pretty for solo fest in homage to her. Tony (Richard Beymer) is also one of my favorites. He has a wonderful voice and is pretty attractive as well. Riff (Russ Tamblyn) is another one of my favorite characters. I love his voice because it's so different and his character is very lovable. But by far, my favorite character is Anita (Rita Moreno). Morena does a great job playing Anita. She has that quick witted type character down to a science. Anita has the best lines and the best part. She was always the character I always wanted to be. She also had great costumes. Even now watching it I envy her purple dress she wears to the dance. It's so pretty and full. I have always wanted to dance in a dress like that.
The great thing about a musical like this is that they have great musical numbers. And they are not fun to just watch because of the performance, they are very comedic. The words are catchy and funny. My two favorite songs in this movie are America and Officer Krupke. America would be one of those songs that would be so much fun to rehearse over and over again. It's a fun scene clearly. The boys mockingly dance with each other and the girls dance for fun too. The entire song consists of who has the best comeback. Anita and Bernardo battle it out with their friends helping out. But at the end of the song Anita clearly is the winner:
Bernardo: I think I'll go back to San Juan
Anita: I know a boat you can get on, bye bye!
Bernardo: Everyone there will give big cheer
Anita: Everyone there would have moved here!
Ouch. You need some ice for that burn Bernardo? But no need to worry because at the end they still love each other. It's just playful. But that was one of my favorite lyrics in the entire play. It is delivered so well and the way Anita says it makes you want to laugh. The other thing I love about this song is the harmonies. Being the music nerd and proud alto I am, I am always listening for harmonies to see how they sound. The harmonies in this song are really interesting. They are slightly weird but they work for the song and the singers. The way they sing this song is like as if they are slightly yelling so it has this cool effect in this song.
Officer Krupke is my other favorite song for the same reason as America: It's funny. This song is also one of the reason I love Riff. They get so intense about making up this fake story and include props, voices and everything else. Riff takes his part very seriously and has great lines in this song. This scene reminds me of my friends and how we'd get really intense when singing songs to each other. We'd do similar things that they do in the song.
However this movie is not all laughs. There are many serious parts in it too. There are many dark parts, but there are some very beautiful moments too. One of my favorite serious moments in this movie is the scene in the dress shop with Maria and Tony. They take the mannequins and pretend that they are the wedding party and its very light and funny but then they get serious. They kneel down next to each other and recite wedding vows to each other. In the background the window lets the sunlight through that forms this majestic ray on them. And the window has the shape of a cross in it. The scene looks like it could actually be in the church. It's a very powerful scene as they truly convey how much they love each other. They end the scene singing One Hand, One Heart.
I think the most powerful scene in the movie though is at the end. Maria sings to Tony as he dies slowly in her arms. Then she asks Chino for the gun and points it at both gangs. This deranged, jaded young girl is the answer to what it takes to end this long time feud between the Sharks and the Jets. They stare at Maria as she points the gun at them and you can see how ashamed they are as she holds on to Tony in his last few seconds of his life.
So whether you love Natalie Wood, Musicals or just great movies this is a great classic for you. Celebrating 50 years in 2011 it is a great love story complete with comic relief and action scenes. It's a great take on the classic Romeo and Juliet tale and appropriate for all ages.