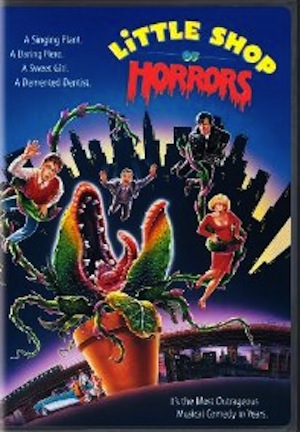 Up until about middle school I didn't even know that Little Shop of Horrors existed. I found out about it at dance actually. Our rival dance studio performed this big production number of it one year, which of course we beat. And later that year my friend told me she was doing a performance of it with one of the city's children's theaters. Finally when walking through Borders one day I found a copy of it on DVD and convinced my mother to buy it. I'll be honest, it's very odd but is actually a pretty good movie. The thing I think I love most about the movie is the music. I've always been a big Disney fan so realizing that Alan Menken wrote the music obviously made me very happy. But it's a different kind of music. It's got this 50s/60s do wop and rock feel to it, especially in my favorite song Da-doo. My favorite singers in this movie are the Greek trio that help narrate the story. Once again, being the musical geek I am, whenever my friends and I would pretend to cast this show for our school I always made sure I was one of them. They get the best part! Their fun harmonies and outfits are so much better than anyone else's. It would be such a fun part to play.
But my favorite character is Steve Martin's Orin Scrivello D.D.S. Although he barely has a half-hour long performance in the show he's my favorite. Martin does an amazing job playing this demented dentist; he is definitely the comic relief of this show. I mean what isn't funny about a dentist who loves to give people pain? So many of us think that's what our dentists are like in real life anyways. So this movie gives a comical representation of our perceptions of dentists. He song is hilarious as he rides down the street with his motorcycle. And the poor victims he frightens throughout his number, including his poor nurse who always seems to get beat up. I think the transition from the song to the next scene is really creative. Scivello says, "Now spit!" as he hits his patient to make them spit out the water. The water turns into the water from the bucket Seymour uses to wash something outside the shop.
The scene with Scrivello and Bill Murray's character is very funny. Murray also does a great job playing this dental enthusiast. He tells Scrivello all about the many dentists he goes to everyday (Unfortunately his teeth still look bad) My favorite part is when he screams "Candy Bar!" over and over again while the dentist is trying to derive some pain with his insane tools.
Seymour (Rick Moranis) is another one of my favorite characters because he is so adorable. He is sort of a klutz and a mess but is extremely lovable. Moranis does a great job with this character with his dorky little glasses. He reminds me of his awkward character from Ghostbusters. This small little man who is lost in the world. And he's in love with Audrey with is really cute. I love when the two of them sing Suddenly Seymour, it's so adorable.
This review would not be complete though if I didn't bring up the plant. His voice is awesome, it reminds me of Little Richard or something. My favorite song he sings is Suppertime, with the background voices by the trio of course. I love the piano pounding out the melody, the plant's smooth voice and just all of the song, especially the girls. I never realized how creepy Audrey II is when he/she/it opens up his mouth slowly behind Mr. Mushnik right before he gets eaten. It's actually incredibly weird and sketchy.
Although this is more of a modern musical rather than a classic like Oklahoma or Cinderella it is definitely worth watching. It's pretty good for kids of all ages although there are some scarier parts in it. Thankfully unlike the stage show this one has a happy ending. Whoever did the rewriting from musical to movie it was good that he cut the part where Seymour and Audrey both die and get eaten by the plan.