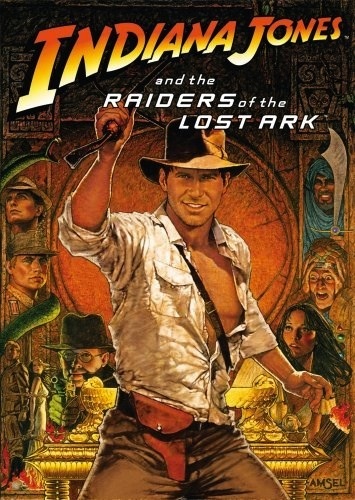 I'm pretty sure I've said this in past reviews before, but my old man crush is by far Harrison Ford. He is one amazing man. Whether he's battling spaceships in intergalactic wars or Nazis in the mid twentieth century he's got it all, and looks pretty sexy while doing it. Although I do prefer Han Solo, Indiana Jones is one awesome archeologist. I'm not gonna lie, seeing what he did when I was little definitely made me think I wanted to be an archeologist for awhile. Of course once I got to school I learned that being one would be more like a historian and deal with books and research rather then uncovering long lost artifacts of the past. But that put aside Indiana Jones had a pretty cool, unusual life. I'm sure I'm not the only one that coveted it. And how could you not love a hero who defeats the Nazis at the end of everyday while getting the girl?
In the very first movie, Raider of the Lost Ark, the stage was set. This movie was awesome. A little predictable, a little too perfect to believe, but still satisfying. One of the most memorable scenes in the movie is when he gets stuck with Marion in the tomb with all the snakes. I'm not a fan of snakes either and no matter how many times I watch this movie I still get freaked out and anxious during this part. The sound effects used for the snakes is loud and constant which makes the suspense build as he tries to find a place to escape. Of course Marion is your typical damsel in distress and continues to freak out, almost fall, lost her shoe, scream and for the most part is kind of annoying in this scene. Thankfully though, the two find a way out.
The other part I really like of this movie is the chase scene when he is trying to get the arc away from the Nazis. For everything, Indiana Jones has it perfect. It is just convenient that there is a cliff when he is tearing people off the cargo van so they can fall millions of feet to their unfortunate deaths. There just happens to be trees so he can use them to advantage to knock people off. Indiana Jones is just lucky enough to hold on underneath the vehicle then grab on and pull himself up as the van drives at tumultuous speeds. However, if other people try to do what he does they just get run over. Indiana Jones is one lucky duck. Everything works out perfectly for him. I'm happy he doesn't die of course but everything is almost a little too perfect for him.
For being the first movie in the series it's pretty well done, but I don't think it's my favorite Indiana Jones movie. It's probably my least favorite (not include the joke of the fourth movie) of them all but it's still well done. I think that besides the few scenes where we learn pertinent parts of Indiana Jones (i.e. his way with women, his dislike of snakes, etc.) most of the movie is pretty unforgettable. The other two movies have such big scenes with crazy storylines this one seems pretty mediocre.