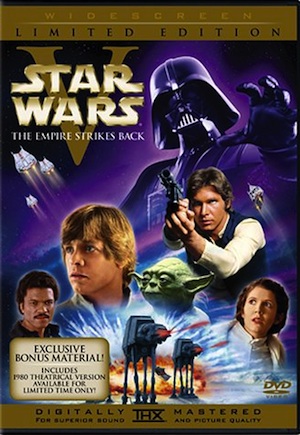 After such a joy watching the original Star Wars, I couldn't wait to see the next episode. Unfortunately, The Empire Strikes Back stands as my least favorite of the trilogy. Not just because Han Solo (Harrison Ford) dies (although that is slightly depressing) and on top of that Leia (Carrie Fisher) and him finally proclaimed their love for each other. It's because no major events occur; This film drones on as the most forgettable of the three original movies. Still, some very important things happen during this movie to move the saga along.
In one of the best scenes, the Alliance and the Imperial Forces have a huge ice battle as Darth Vader's army nears the Alliances' main headquarters. The Digital remastering is a little too fake, but still, for a picture made relatively long ago, the technology and the machines they create seem quite life-like. The huge robots that shoot are pretty intense. But, of course, although our heroine is stranded in the midst of this battle, he still manages to escape, jumping and dodging falling debris and the steps of soldiers and machines. He even manages to blow up a few things. At the same time you see Leia and Han Solo's relationship as he tries to save her from the falling tunnels and such of the alliance's "secret" building which is anything but secret anymore. Even though Han Solo was going to leave because he received his money his love for Leia made him change his mind and come back to save her. Awww! See, even Sci-fi movies can have romance!
Another scene I like takes place when the Millennium Falcon gets stranded on an asteroid. Han desperately tries to fix the ship before Darth Vader and the storm troopers find them. (However in the long run it doesn't really matter because his "friend", Lando Calrissian (Billy Dee Williams), turns them over to Vader.) Anyways, while on the asteroid all the passengers frantically move about the ship to find out what is wrong. In one part of the ship, Han and Leia, all alone, finally sort out their problems and discover their love. It ends with a passionate kiss – well kind of. C3-P0 comes in and basically ruins it. But regardless, I finally felt relieved to know that they were going to face their feelings and confront the truth. Plus they make a cute couple.
Several other cool scenes come up every now and then, like when Yoda and Luke bond together at Yoda's home. But, besides that, there aren't really that many other interesting events going on. So this movie kind of all blurs together in my mind. Of course, as I actually think about it and sort out what happens, I realize that it's not that bad. It's just not as good as the other two.