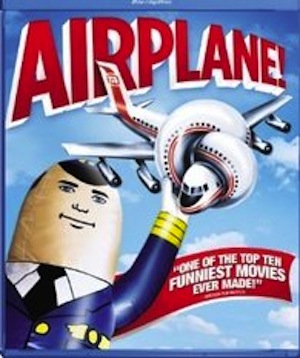 Everyone loves a good laugh. Although I think Mel Brooks is the best when it comes comedies on the big screen I think I may have found an exception to that belief: Airplane! This is about the third time I've seen this movie, but every time I watch it I rediscover how great this movie is. Every scene has millions of references and jokes that make you literally laugh out loud or at least smile at its wit.
I'm not gonna lie, the first time I saw this movie I didn't really pay attention. My dad insisted we watch it one night while making dinner. I rolled my eyes because my dad and I often have different senses of humor. Not to mention even in the privacy of our own household his laugh makes me feel embarrassed. It wasn't til last semester when a bunch of my friends planned a movie night. We went through the netflix videos but found nothing we wanted to watch. Finally we settled on Airplane! Now I've seen my share of crazy movies with these guys and having them pick movies sometimes made me nervous afraid of what I would be watching the next 2 and a half hours. However, I had remembered I'd seen it before so I felt safe. The next hour and a half we were all dying of laughter. This movie has really got everything and appeals to a wide audience with different senses of humor. Even watching this show last week I laughed at everything as if it had been my first time seeing the movie.
I don't know if it's the outrageous adventure or romantic story line that is funnier. Both add different elements to the movie. I think my favorite scene has got to be the bar scene that Ted recounts to the old woman. He tells about the crazy fights with the two…girl scouts (?)…throwing each other against the wall, punching each other, throwing chairs and whatever else they do. That in itself is hilarious. But the best part I think is the Saturday Night Fever spoof when Ted and Elaine dance. He even does the signature John Travolta move. Speaking of John Travolta I also enjoyed the quick tribute to the opening scene in Grease where they are on the shore of the beach being all cute and romantic.
But I don't think it's the scene themselves that makes this movie funny, it's all the random little add ins. At the very beginning the tone is set by the battling announcers at airport fighting over which zone the red, or white is the no stopping zone. And there's no way you can't laugh at Ted's drinking problem as he constantly throws water at his face. And as mean as it sounds you can't contain you laughter when the stewardess sings to the little girl and knocks her IV out and the rest of the plane sways to the song while the girl is grasping for the cord. However, one of my favorite parts is whenever that one guy from the airport control room, Johnny talks. "There's a sale at Pennys!" His outrageously random comments always made me break out into a fit of giggles.
Overall, this movie is funny, and unlike many comedic movies actually has a pretty interesting plot. Although it's pretty clear and straightforward you can't keep your eyes off the TV. So if you're looking for a good movie to put you in good spirits find Airplane! Even though the actual plot seems terrifying the comedy makes you forget how dire and scary this situation really is.