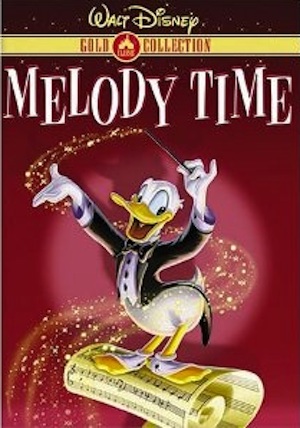 Ever since I was little I loved Disney's animation movies. To this day I still own most of them, the Disney Princess Collection, the Pixar Collection and various other ones. I thought I had really seen most of them until a few days ago. I was in a conversation about old classic Disney movies when someone brought up Melody Time. Now I have this Disney Charades game at home that I played a lot and there was always these characters from Melody Time in the "adult" (harder) cards. So I asked about it and they said they still had the video. I figured it was older (1948) since I had heard of most of the newer movies. So I figured why don't I watch it. It would be a perfect movie to put in my repertoire of reviews.
Melody Time, to me, is a lot like Fantasia mixed with Disney Pixar shorts. It's got lots of music in the background to give it that more classic appeal but there's also dialogue to go with it. Melody Time is really just a collection of animated shorts, just like Fantasia. There are 7 parts to it, each one with its own cast of characters. Many of the shorts feature music in the background done by different Orchestras. The Andrew Sisters also sing many of the songs in the movie as well. It is quite entertaining, but to be completely honest I enjoyed Fantasia better.
The first section is Wintertime. This one was Fantasia-esque, in that it didn't have any words just music symbolizing the characters' emotions and actions. It was cute and romantic, both a human and rabbit couple make hearts while ice skating. However both of the boy companions do something wrong making the girls become angry with them. Then the boy rabbit gets angry and accidentally breaks the ice so that both the girls get suck in a quickly forming rapid nearing a waterfall. They both promptly faint, (as, obviously, do most women when they're near their death /sarcasm) and the men both attempt to save them, albeit unsuccessfully. However a horse and the rest of the animals watching them do save the women and the rabbit and they wake up in the arms of their beloved. And they live happily ever after. It was cute and all, but it just didn't really captivate my attention. It was really confusing and dumb.
The tale of Johnny Appleseed was another one of the shorts in this video. I believe that because of this and the Pecos Bill story it is relatively well known. Johnny Appleseed was fun. It had a cute song to go with it I actually sang in chorus a few years ago. It was a nice story, adding in all the elements of a regular Disney character: constantly singing, befriending all the animals in the forest, etc, etc… I think this was by far the best story, maybe because it took a character from my childhood that I knew really well, and brought him to life on the screen. Regardless, to me this was the only interesting episode in the movie.
The last and longest section in this movie is "Roy Rodgers and the Pioneers". It is basically Roy Rodgers telling his niece and nephew the story of Pecos Bill and the woman he almost married until Bill's jealous horse sabotaged the marriage with the end result causing the woman to land on the moon. So now Pecos Bill howls at the moon, which is why the coyotes do, too. I don't know. It was just kinda weird. I was not a big fan. And the singing they did in this section was making me so sleepy, it sounded almost like a lullaby.
Overall, this movie was, like, OK. It definitely had some good parts to it, but if you haven't seen it, don't get too upset, you're not missing out on much. I'd pick Fantasia any day over this movie. It's much more captivating and interesting than this movie.