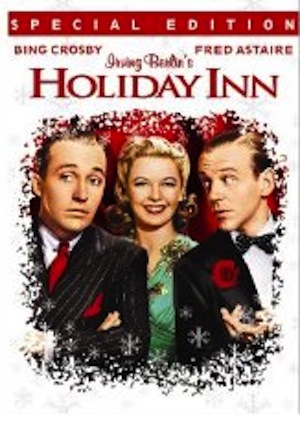 Here's a must see for all classic Christmas movie and theatre lovers. Holiday Inn, released in 1942, combines the phenomenal talents of Bing Crosby, Fred Astaire, Marjorie Reynolds and Virginia Dale. The film contains big musical numbers and expresses themes of true love and the ups and downs of Hollywood. To add on to the classic quality of the film, the original black and white cinematography makes the movie even more magical and more like a fantasy.
The first musical number gives Holiday Inn a solid and memorable start. After listening to the three lead actors' entangled drama where Crosby and Astaire both love Dale, the trio ironically portray the identical problem on stage where the two men "battle" over who will end up with the woman. Crosby sings and Astaire dances showing off their talents very early in the film. While the performance offers no clear winner, the next scene reveals dancing tops singing – on this occasion.
One of the best scenes in this movie occurs when Bing Crosby sings the famous Irving Berlin song "White Christmas" for the first time to Marjorie Reynolds' character, Linda Mason. As they sit by the piano Crosby teaches Reynolds the song he wants to sing during the Christmas holiday. You can truly feel the Christmas spirit, not to mention the love, in the air. Lots of chemistry and harmonies intertwine throughout the number. No matter what your age, you can't help but feel the magic moment playing out right before your eyes.
The musical number when Crosby professes his love to Reynolds through song stands out as another great scene. As he sits at the piano singing "Be Careful, It's my Heart," Reynolds dances with Astaire, her soon-to-be dance partner and lover. Absorbed more by the tune's melody, she totally disregards the lyrics Crosby croons. Ironic but funny, this scene makes you feel even more sympathy for Crosby because, once again, he loses his woman to Astaire's dancing shoes.
Holiday Inn was really good. You should see it. But it's not up to me to tell you what to like or what not to like. See it for it for yourself and post your comment below.